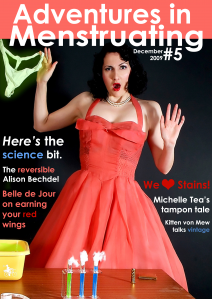 Friend of re:Cycling, Chella Quint, will be doing a reading with Jenna Freedman & James M. Parker at Bluestockings Bookstore, Café, & Activist Center (172 Allen St, New York, NY), Thursday night (August 25, 7:00 – 9:00 pm).
Join Chella Quint and friends for some comedy readings that attempt to explore the why's and the how's of having grown up writing zines — from her 4th grade construction-paper and paper-fastener-bound school report on Benjamin Franklin to the latest issue of "Adventures in Menstruating." New titles since her last visit to Bluestockings are Adventures in Menstruating #6 (deconstructing feminine hygiene advertising with wit, irony and brute force), The Venns (introducing the world to the great British pub quiz in a spoof research paper using charts, graphs and diagrams) and It's Not You. I Just Need Space. (interplanetary letters of love and rejection). She's also reprinting issues 1-5 of Adventures in Menstruating for a trip down memory lane. Collect the set!
Chella Quint is a comedy writer and performer living in Sheffield, England, but she is originally from New York.  Fresh from performing at the Edinburgh Fringe Festival, she's looking forward to her annual trip home. Check out www.chellaquint.com
Joining Chella are
Jenna Freedman, Lower East Side Librarian author and Wrangler in Chief of the Barnard Library Zine Collection will be reading from her in-progress Orderly Disorder: Librarian Zinesters in Circulation tour zine, tentatively titled "Anything You Say on a Zine Tour Can & Will Be Quoted out of Context in a Zine-Tour Zine."
and
James M. Parker, poet laureate of all the little people who live inside his head, is a NYC-based writer with delusions of grandeur. He'll be reading prose and poetry from his chapbook, Spinning the Cube, including his contribution to Adventures in Menstruating #6.