Scary Little Menstruating Girl
[note: Although re:Cycling has an international audience, the following post is written from the perspective of an North American consumer.]
As is well known, cultural practices and attitudes regarding menstruation vary widely from place to place and time to time. re:Cycling has commented on the variety frequently in the past.  Differences also make themselves felt even in advertising and packaging of menstrual products, as the notorious Kotex Beaver ads from Australia demonstrate, despite the fact that the products are manufactured by global, trans-national corporations. Though the fact that the menstrual cycle itself is a world-wide biological phenomenon might suggest that views of its meaning and management would be universal as well, nothing could be further from the truth.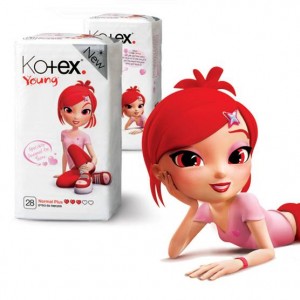 Consider an ongoing marketing campaign that originated in Israel that features a cartoon character named Kita. To the best of my knowledge this campaign has not been adapted for use in the United States, nor, in my opinion, is it likely to find a place in American advertising nor on American market shelves. The spookiness of the cartoon girl who resembles a Japanese anime character seems strangely unlike the way that American consumers commonly depict young teens in a menstrual context. Even the lettering of "Young" and the way the term is used are unfamiliar to American eyes. Of course, the term "Normal Plus" is meaningless but that's not unusual in advertising everywhere. And all the shades of red and the display of hearts across the bottom of the package are unfamiliar to American consumers as well. In fact, the menstrual taboos in America have resulted (with few exceptions) in a near absence of red, other than in carefully planted touches such as the ribbon on Mother Nature's menstrual gift box in Tampax Pearl ads, the hair and lipstick of the magician in the Always pad ads, and the big red dot in many Kotex ads.
The Kita campaign began with careful planning and design. As this promotional video from McCann-Erickson, the Tel Aviv ad agency behind the campaign, explains, it began with the creation of a character and an internet world based on notions of what the target consumers – 10 to 13 year old girls – are thought to love most: shopping, the Internet, shopping, clothing, and, of course, in addition to shopping, more shopping. The character of Kita ("the coolest friend any girl could want"), who narrates her own creation and success story, speaks in a voice that is derived from the American "Valley girl" model, complete with plenty of "like" phrases, a few "awesomes," an "as if" and a "duh" or two. How Kita immigrated from the San Fernando Valley to Tel Aviv is a mystery, although her native voice does come through a few times via some non-Valley pronunciations. (She pronounces "Kotex" as though it were spelled "Kodex.") According to the boastful promotional video clip, Kita has achieved remarkably high market saturation. It claims that, "95% of Israeli girls know me and love me" and that "1 of every 2 Israeli girls (12-15) has a profile in Kita City." Furthermore, since the launch in 2007, the "Kotex market share grew by 56%." If this is what it takes — a menstrual role model who babbles in clichés, is consumed with consuming, wallows in the trivial, yet does so with seeming self-confidence and menstrual cycle savoir faire — to break down even an iota of menstrual shame and insecurity, who are we to object? And the fact that Kita has become a transnational, widely identified cultural meme, as the agency seems to claim, then maybe her next assignment should be to promote world peace. Ya never know!