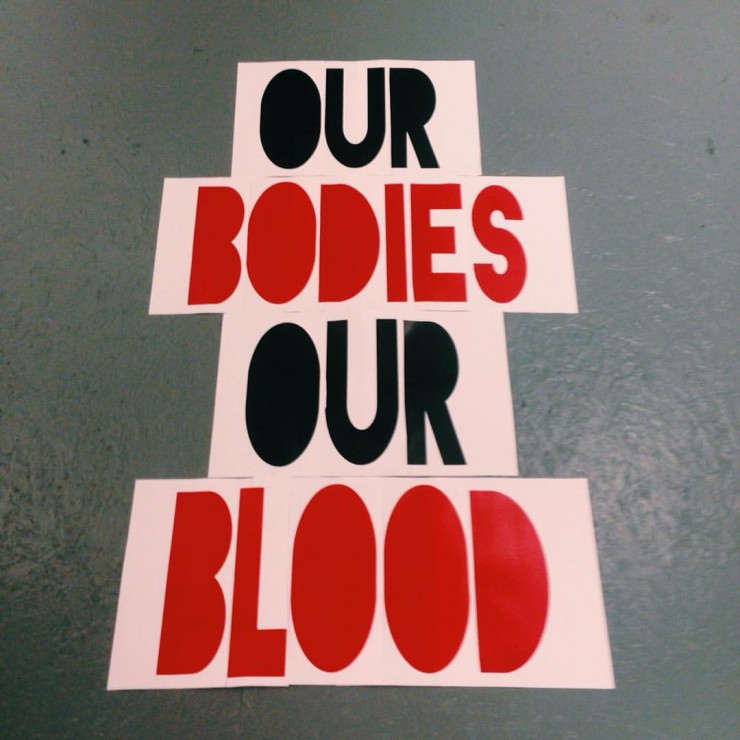 Our Bodies Our Blood
Now through September 30
Plan B Gallery
2180 Gottingen Street
Halifax, Nova Scotia
For more information about events visit https://www.facebook.com/ourblood.artproject?fref=ts.
As we saw with Widening the Cycle at #SMCR2015, art has the ability to play a powerful role in social activism, especially with regards to menstruation. Earlier this month a group art show opened in Halifax, Nova Scotia dedicated to exploring the complex role menstruation plays in our lives. The Our Bodies Our Blood exhibit will be on display all month long and is accompanied by weekly artist talks, menstruation-related lectures (i.e. FAM, sustainable products, etc.) and  the "Blood Fund," a fundraiser seeking to help low income/financially unstable menstruators secure the products they need. In addition to visual art, Our Bodies Our Blood has a community blog component encouraging people to share their first period stories.
About the show:
The purpose of this project is to create a safe space to share our experiences with menstruation through art and conversation. By creating a space to share and learn, we start to create community. We hope to spread awareness about the environmental, social and political relevance of menstruation, and how it is something we need to start talking about.
This project was inspired by multiple discussions with menstruating folks who felt that it is important to know your body and to take charge of your menstrual health. It all started when I (Alanah Correia) tagged along with a friend to a fertility awareness workshop. She was very interested in the topic, and as for me, I didn't know what I was getting into! What I took away most from it was how important it is to have safe spaces to talk about, and learn about menstruation.
Continued at http://ourbodies-ourblood.net/about