June 25th, 2013 by Elizabeth Kissling
Don't feel bad if you missed last week's headline news about the deaths of 23 young women from their birth control. It was a top story for CBC news and a few other Canadian sources, but it was barely a blip on the radar of most U.S. news outlets. Yaz and Yasmin, two similar new-generation birth control pills from Bayer, are suspected in the recent deaths of these young Canadian women.
These are among the best selling oral contraceptives in the world, but this is not the first time Yaz and Yasmin have been suspected of causing death or adverse effects. Earlier this year, Bayer agreed to pay up to $24 million to settle claims from plaintiffs with gall bladder injuries caused by the drugs, and the company set aside $1 billion to settle claims from approximately 4,800 women who have suffered blood clots due to Yaz or Yasmin. As of February, 2013, approximately 10,000 lawsuits against Bayer are still pending in the U.S., and an additional 1,200 unfiled claims are pending. The company anticipates additional lawsuits—and additional settlements—regarding blood clot injuries, such as pulmonary embolisms or deep-vein thrombosis.
The history of the birth control pill and its social impact is well documented. First approved by the U.S. Food and Drug Administration in 1960, it quickly became the world's first "lifestyle drug," and it has become the one of the most studied drugs in history. It is considered to be so safe that the American Congress of Obstetricians and Gynecologists (ACOG) recently recommended that oral contraceptives be sold without a prescription.
But all hormonal contraceptives–the pill, the patch, the shot and the vaginal ring–carry a risk of blood clots. For most users, this is a minor concern, affecting approximately six of every 10,000 pill users. For users of new-generation pills—that is, pills containing drospirenone, the fourth-generation synthetic progesterone found in Yaz, Yasmin, Ocella and several other brands—the risk jumps to ten of every 10,000 users, although Bayer maintains that their own clinical studies find the risk comparable to older pills. Note, however, that the risk in most of these studies is compared either to other hormonal contraceptives or to pregnancy, not to using effective non-hormonal contraception. As if women's only choices were to be pregnant or be on the pill.
And it is this matter of women's choices that brings me to my main point: Why we have we seen so little media attention to the safety profile of Yaz/Yasmin (and hormonal contraceptives more generally)? This isn't about just a few unlucky Canadian women: Four women in Finland have died, more than 50 U.S. users of Yaz and Yasmin died in just a few years and France reports 20 deaths per year due to birth control pills between 2001 and 2011, with 14 attributed to the new-generation contraceptives. This is a major consumer safety concern, and a women's health issue.
In an earlier time, this might have led to Congressional investigations, such as the Nelson Pill Hearings, which resulted in FDA-mandated Patient Package Inserts (PPIs)—the printed information about risks, ingredients and side effects included in pill packets, first required for oral contraceptives and then for all prescription drugs. It is hard to imagine today's Congress calling for such an investigation. Among many other social changes since 1970, drug manufacturers in the U.S. hold more influence over both legislators and consumers, now spending nearly twice as much on promotion as they do on research and development.
A parallel can be found in the health crisis triggered by an outbreak of Toxic Shock Syndrome (TSS) linked to tampon use in 1980. TSS is a potentially fatal infection caused by bacterial toxin Staphylococcus Aureus. A new brand of superabsorbent tampon was linked with 813 cases of TSS, including 38 deaths, that year. By 1983, the number of menstrual-related cases reported to the CDC climbed past 2,200, and manufacturer Proctor & Gamble had "voluntarily" pulled the product from the market before the FDA forced them to do so. The intense media coverage, public concern and outcry from feminist activists pushed the FDA to reclassify tampons as a Class II medical device, an upgrade which meant tampons would require more specific regulation and possibly after-market surveillance. They were much slower to mandate absorbency standards, but eventually did so under court order. These actions resulted in a documented decrease in menstrual-related TSS, although it is important to note that it has not disappeared.
Today, more than 30 years later, young women are again dying from something purported to help them, something that affects mostly women. Thousands more are experiencing life-threatening, health-destroying side-effects, such as blindness, depression and pulmonary embolism. Canada's professional association of OB-GYNs defended the drug, suggesting that perhaps the recent deaths could be attributed to non-contraceptive reasons for which it was prescribed, such as PCOS or diabetes, both of which are associated with higher risks of blood clots. But there is little evidence of public concern, outside of Yaz/Yasmin user message boards. Even feminist outlets aren't always covering these issues as vigorously as we might hope.
Yet the birth control pill in general has never been more politicized in the U.S.: In the last year or so, we've seen headlines and public debates about insurance coverage of the pill, access to emergency contraception and so-called personhood bills which have been introduced in legislatures in at least eight states. Feminist activists and health care advocates have been working tirelessly to protect access to the pill along with other forms of birth control, as well as the right to end an unintended pregnancy—and feminist journalists have been writing about these activities.
In the urgency of responding defensively to these political attacks—and we must respond—feminists cannot ignore corporate threats. Just as preserving contraceptive and abortion access is critical to women's health and well-being, so is protecting contraceptive safety.
Cross-posted from Ms. magazine blog.
July 9th, 2012 by Chris Bobel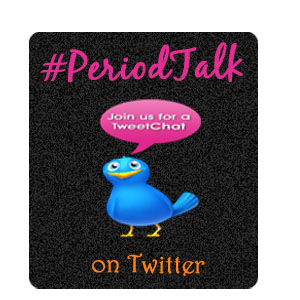 Does the notion of a Menstrual Party smack of an oxymoron?
For most, that's a yes. And that's why we need one.
There's so much more to Period=Yuck, and a good party can show us how much.
Like any winner social event, this party  is a time and place to gather and connect—with the added benefit of  increasing our menstrual IQs.
Our friends at Be Prepared Period and You ARE Loved are hosting their First Annual Online Menstrual Party on Friday, July 13 from 2:00 – 3:00 p.m. ET. They are the perfect hosts for such an event, because they intimately understand the pressing imperative of menstrual know-how.
Readers of re:Cycling may remember You ARE Loved, the courageous educational foundation established by Lisa Elifritz, in honor of her daughter Amy Rae Elifritz. Amy Rae died from TSS in 2010. Because of a tampon.The Elifritz family is suing Playtex for negligence and liability, and they allege medical malpractice at the hand of the hospital where Amy Rae was treated. This grieving family rightly seeks accountability and justice and a world where not one more girl or woman succumbs to TSS. As Elizabeth Kissling reminds: we have to teach girls and women that "the femcare industry isn't looking out for them—they've got to look out for themselves."
Prepared Period and YAL have been deploying social media to get this message for a year now. Their online educational chats have grown from a few to fifty or more participants discussing a new topic each month. Past topics include "Periodic Stories: Ours and Yours", "Exploring the Many Feminine Hygiene Options", and "Puberty and Periods: Guiding Tween and Teen Girls". So the July 13th menstrual party is their 1st anniversary.
The party can be accessed via Twitter using the hashtag #PeriodTalk, and will include conversation, questions, polls and lots of interaction on a variety of menstrual products and plenty of essential Q and A. There will also be numerous giveaways. FREE STUFF! Additional information, including links to register for multiple product giveaways, is available on the Tweet Chat pages of the Be Prepared Period and You ARE Loved websites.
Show up for Amy Rae. And stay for yourself and girls and women everywhere.
July 3rd, 2012 by Elizabeth Kissling
Longtime readers of re:Cycling are probably familiar with the story of Amy Rae Elifritz, who died from tampon-induced Toxic Shock Syndrome (TSS) in 2010, and became the namesake of ARE in You ARE Loved, the educational foundation started by her mother, Lisa Elifritz. This summer marks the second anniversary of Amy's death, and the Elifritz family is suing the hospital where she was treated for medical malpractice, and the makers of Playtex tampons for negligence and liability.
Details of the suit are not available due to Indiana's malpractice laws, but the two-part investigative report about TSS conducted last year by Indianapolis television station WISH-TV8 is available here (part 1) and here (part 2). Phillip Tierno, the microbiologist who first identified the connection between synthetic fibres in tampons and TSS more than 30 years ago, is among those interviewed.
The findings of the WISH-TV8 investigative team, led by reporter Karen Hensel, inspired Rep. Carolyn B. Moloney (D-NY) to introduce the Robin Danielson Act to Congress for a fourth time, on June 23, 2011. Moloney first introduced a similar bill, called the Tampon Safety and Research Act, in 1997. The bill would have required independent research on tampon safety, under the auspices of the NIH, to determine whether dioxins, synthetic fibres, and other additives are present in femcare products and to assess their health risks. The bill was introduced in 1997 and in 1999, but never got out of subcommittee. In 2001, it was renamed "The Robin Danielson Act", after a woman who died of tampon-related TSS in 1998, in hopes that removing the word "tampon" from the title might speed its progress. The bill was introduced again in early 2003 and quickly moved to the House Subcommittee on Health, where it slowly died. The 2011 edition has so far acquired three co-sponsors and been referred to the House Subcommittee on Health, where it currently rests.
The Danielson act would also authorize and compel the Centers for Disease Control (CDC) to develop a "program to collect, analyze, and make available data on toxic shock syndrome, including data on the causes of such syndrome". Making a compelling case for the bill is complicated by the fact that there are presently no national data on cases of TSS in the U.S. TSS is a nationally notifiable disease that states must report to the CDC, but reporting by the states is voluntary. Amy Rae Elifritz's home state of Indiana did not begin collecting data on TSS until 2009.
I don't know the Elifritz family, but my heart hurts for the loss of their daughter. It hurts for them even more when I read the online comments about the lawsuit and the WISH-TV8 investigation that accuse them of "greed" for suing and Amy of "stupidity" for not reading or not following the warnings on the tampon box. Aside from the insensitivity and cruelty of saying such things to a grieving mother, they're just not true. Amy's mother is certain that she did read and heed the instructions on the box, but that's not enough.
It remains controversial whether it is how long one wears a tampon or the fibre content of the tampon itself that is correlated with the growth of bacterial toxins in the bloodstream. The preponderance of evidence would suggest that it's more likely about the fibres, especially since the manufacturers have the confidence to have withdrawn the warnings not to leave tampons in overnight from the required package inserts several years ago. (Those package inserts were required by court order, by the way, nine years after 38 women died from a tampon-related illness, because the industry refused to implement voluntary standards.)
Accusing the Elifritz family of greed is even worse. Lisa Elifritz started the non-profit foundation, You ARE Loved, for the sole purposes of raising awareness of tampon-related TSS and providing factual information about menstruation. Dedicating your life to preventing the cause of your daughter's untimely death is just about the least greedy thing a person can do. And I'm pretty sure it's not very profitable.
The "greedy" remark was about filing medical malpractice and corporate negligence lawsuits, of course, not about starting an educational foundation. But these suits are likely to drag out over a period of years, and require the Elifritz family to relive every agonizing moment of Amy's last days in painful, public bas-relief. There are easier ways to make money. I have to believe this is about justice — making it impossible for a team of emergency room doctors to be unable to recognize signs and symptoms of TSS. Impossible for FDA regulators and tampon manufacturers to be so cavalier about women's health. And impossible for girls and women not to know that the femcare industry isn't looking out for them — they've got to look out for themselves.
Readers should note that statements published in re: Cycling are those of individual authors and do not necessarily reflect the positions of the Society as a whole.